Source: The guardian
'People just want a chance': the Australian network connecting refugees with jobs
By about the 100th job application he had sent off, Nirary Dacho had lost count – and all confidence.
"It was very hard on me," the 29-year-old Assyrian says. "Initially I was very confident but, after 10, 20 applications with no response, I began to think, 'No one will employ me.'"
Dacho had arrived in Australia in June 2015 as a refugee from war-torn Syria, accepted for resettlement with his family as part of Australia's humanitarian migration scheme.
Like so many others before and since, he had fled the conflict in Syria, which has driven more than 5 million people from the country, which this month descended again into the horrors of illegal chemical warfare.
One of the lucky ones who got out, Australia gave Dacho a chance to rebuild his life. He would begin by restarting his career.
Dacho was initially confident work would find him. He believed he had everything a prospective employer could want. He was qualified, with a master's degree in web science, he had strong English and a proven track record in his industry – eight years working in IT with multinational companies and teaching programming at a university in his homeland. He had even found work in Lebanon, to which he had initially fled.
"I thought it would be easy, I thought I would be a strong candidate but I found it very difficult and it was very hard for me."
What Dacho realised he lacked was not the skills but the network, the linkages and connections, often informal and sometimes almost unrealised, that form part of the job-seeking process.
So Dacho decided to build the network.
After an appearance on the ABC's Lateline – for a segment about the challenges faced by refugees finding work – Dacho was immediately overwhelmed with 10 job offers and he realised there was a wealth of goodwill towards refugees within the Australian business community; employers anxious to hire new humanitarian arrivals but who had difficulty in finding them.
At a networking event for refugees with IT skills, Dacho met Anna Robson, a former Save the Children worker on Nauru who says her time on the offshore detention island showed her the psychological damage of people's "talent being wasted" when refugees were keen, even anxious, to work but were unable to find a meaningful outlet for their skills.
Together, and with the benefaction of the chairman of Vantage Asia Holdings, Jason Yat-Sen Li, Robson and Dacho created Refugee Talent, a web platform that matches refugees seeking work with employers seeking qualified employees and keen to hire a refugee.
"People just want a chance to work, to use their skills, and this is a way we match them to business who are looking for people like them: who are innovative, entrepreneurial and motivated," Robson says.
The site has found an immediate audience: more than 500 candidates and 150 potential employers are registered. Refugee Talent has helped place men and women from Syria, Iraq, Palestine, Pakistan and Nepal into work.
Employers are able to search candidates' CVs by industry, qualification and location. Refugees looking for work are able to search available jobs in their field, state and city.
Refugee Talent also runs "speed-dating events" for prospective employers and employees, workshops to help prepare refugees for entry into the workplace – everything from help writing a resume to practice job interviews – and provides post-placement support for those hired for 18 months.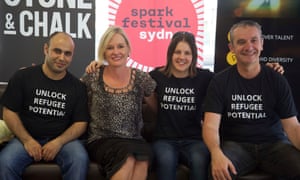 "All of those we have placed into work are still working, and working in their field," Dacho says. "It's very important for people when they arrive in Australia that they are able to start working in their profession, not engineers working as drivers or cleaners. It's important for them, for their families, and, for their communities, they become role models."
Robson says the success of Refugee Talent lies, too, in the fact that "it's good for business".
"Businesses gain an employee who is highly skilled and motivated to work, someone who brings international experience and diversity to their workplace. It's good for their bottom line."
Dacho has designs on overseas expansion.
From July, a trial international talent program will allow Australian employers to sponsor a refugee still overseas to come to Australia.
Via Refugee Talent, and other platforms, an Australian employer will be able to reach into a refugee camp or settlement on the other side of the world and bring a refugee into the country with the guarantee of a job and support rebuilding their lives.
The trial program, announced by the prime minister in September, will offer 1000 visas and is being pitched as a model of an "alternative migration pathway" for refugees that can prevent more dangerous irregular migration by land or sea.
Dacho is excited by the prospects.
"An Australian business can hire someone, and save their life, all at the same time."
Since 2015, former commonwealth public service head Dr Peter Shergold has served as coordinator-general for refugee resettlement in NSW, the state that resettles the largest share of humanitarian migrants.
Shergold has overseen a program avowedly focused on helping refugees into jobs.
"We know that finding employment is one of the most important factors when it comes to building a new life in a new country," a spokeswoman for the NSW Department of Premier and Cabinet said.
"Finding stable, adequately remunerated and fulfilling employment has been identified as a key determinant of refugees' ability to successfully engage in other aspects of society."
As the largest employer in the state, the NSW government has committed to employing 100 refugees across the public sector and pledged $22m to a Refugee Employment Support Program to assist refugees developing career plans and linking them to employers and training.
"The response from the NSW business community has been heartening," the spokeswoman said. "A number of large Australian organisations have also committed to train, mentor and employ refugees, to develop targeted refugee employment programs, provide employment grants and assist refugees to become 'job ready'."
A 2011 study commissioned by the immigration department found that, 18 months after arriving in Australia, 43% of humanitarian entrants remain unemployed.
However, the same research found "the overwhelming picture, when one takes the longer-term perspective of changes over the working lifetime of humanitarian program entrants and their children, is one of considerable achievement and contribution".
"Humanitarian entrants help meet labour shortages … they display strong entrepreneurial qualities … [and] also benefit the wider community through developing and maintaining economic linkages with their origin countries. In addition, they make significant contributions through volunteering in both the wider community and within their own community groups."
Dacho says the chance to come to Australia has been life-changing and the opportunity to establish Refugee Talent equally so.
"For me, it is more than business and a full-time job. It is changing people's lives … which is the best thing I could ever do."
https://refugeetalent.com/wp-content/uploads/2017/04/5184.jpg
867
1300
Nirary Dacho
https://refugeetalent.com/wp-content/uploads/2016/08/RT-logo-02-2-300x139.png
Nirary Dacho
2017-04-28 22:50:33
2017-04-28 22:50:33
'People just want a chance': the Australian network connecting refugees with jobs